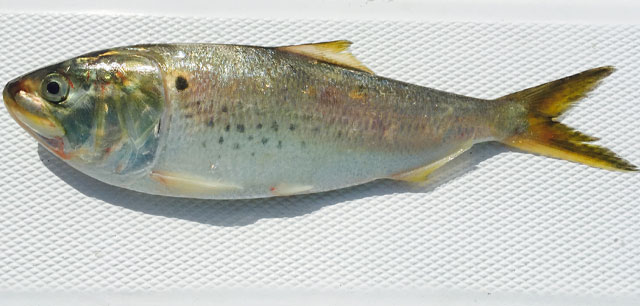 Atlantic Menhaden
Shape
Synonyms
Brevoortia tyrannus,Bunker,Pogy
Edibility
Terrible
Regulations
Notice to anglers: regulations on this page are location specific. Depending on your location, you could be in multiple regulation areas. To ensure you're looking at regulations based on your current location or latitude/longitude, Download the Fish Rules App and enable location services for the best and most accurate experience.

Download for Android

Download for iOS
Bag Limit 25

Additional Notes
No minimum size limit. Method of take: hook and line Personal use only. Sale is prohibited.
Bag Limit 50

Additional Notes
Open year round. No minimum size limit. Daily creel limit is 50 fish or 5 gallons (whichever is greater) per angler.
Bag Limit 100

License Required
No size limit. Open all year.
For a list of official country and state regulations, visit here